Be it sports or daily life. exercise while wearing
A special thread that radiates far infrared rays to support the body from the inside.
Keeps you dry and comfortable with optimal body temperature regulation for all seasons.
Whether for intense sports or everyday underwear.
It can be used for intense sports, everyday underwear, or as an inner layer for business shirts. Recommended for those who are looking for a compression shirt that can be used to exercise while wearing it, correct posture such as stooping. In addition, support lines are placed on the oblique muscles of the abdomen to give a clean and smart look around the abdomen.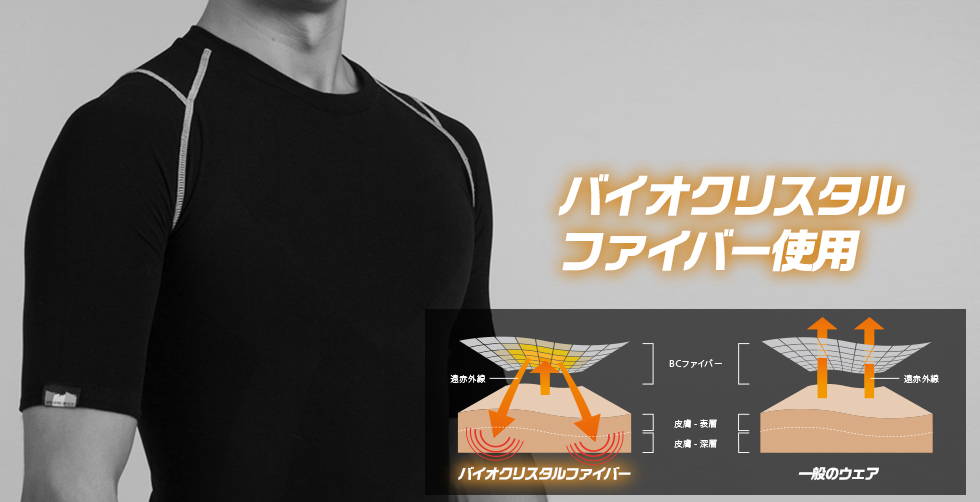 Fiber that brings out performance, biocrystal fiber
Bio-Crystal Fiber receives and radiates far-infrared rays from the body. By acting on the deep layer of the skin, you can expect to improve muscle strength and running power.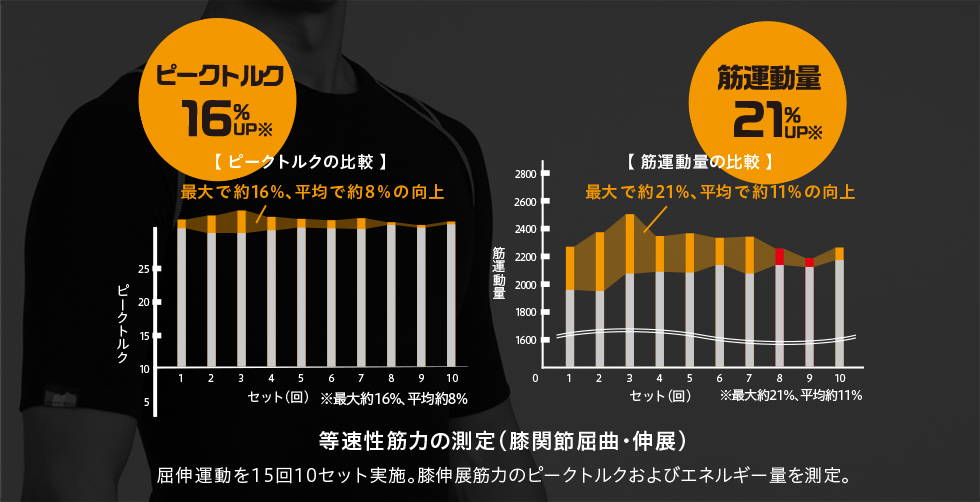 Far-infrared rays act on muscle tissue, and you can expect an efficient improvement in muscle strength performance. It has been confirmed that the peak torque during knee extension and the increase in the amount of energy are increased.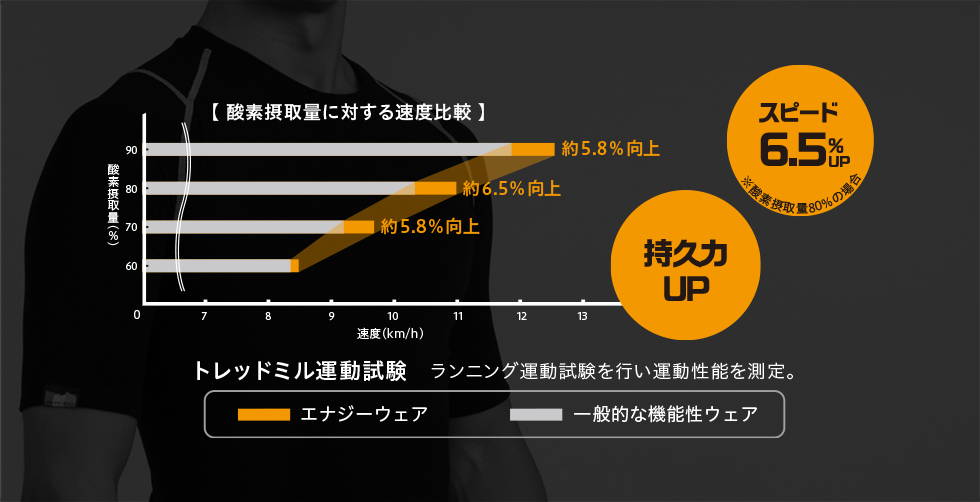 Promotes efficient oxygen absorption. You can expect to improve your cardiopulmonary function. Increased energy production has been shown to improve speed and endurance.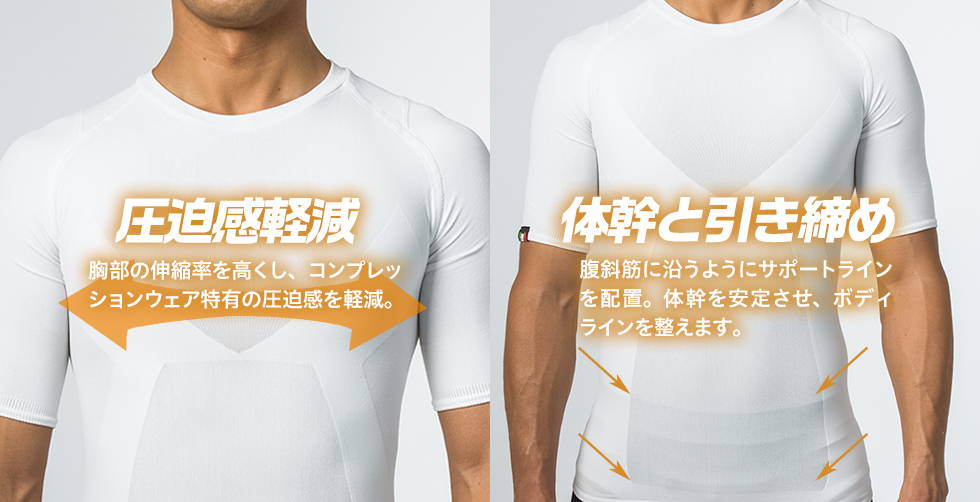 Chest : The stretch rate of the chest is increased to reduce the feeling of tightness peculiar to compression wear. In comparison with a general pressurization shirt,
You can wear it comfortably for a long time without feeling cramped .

Core and Tone : Place support lines along the oblique muscles. It stabilizes the trunk and prepares the body line.
It also tightens your stomach and gives you a slim style by wearing it under a suit or casual clothes.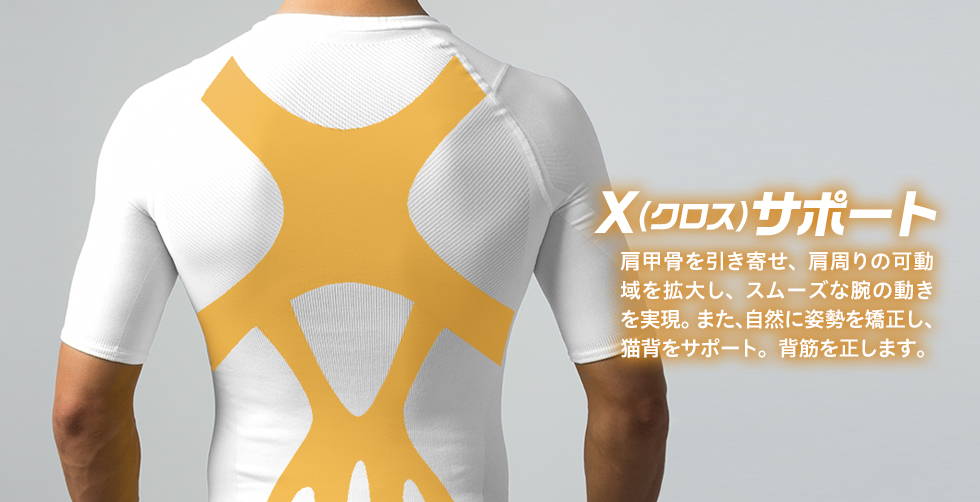 Pulls the shoulder blades together, expands the range of motion around the shoulders, and realizes smooth arm movement. It also naturally corrects your posture and supports your stoop. Straighten your spine.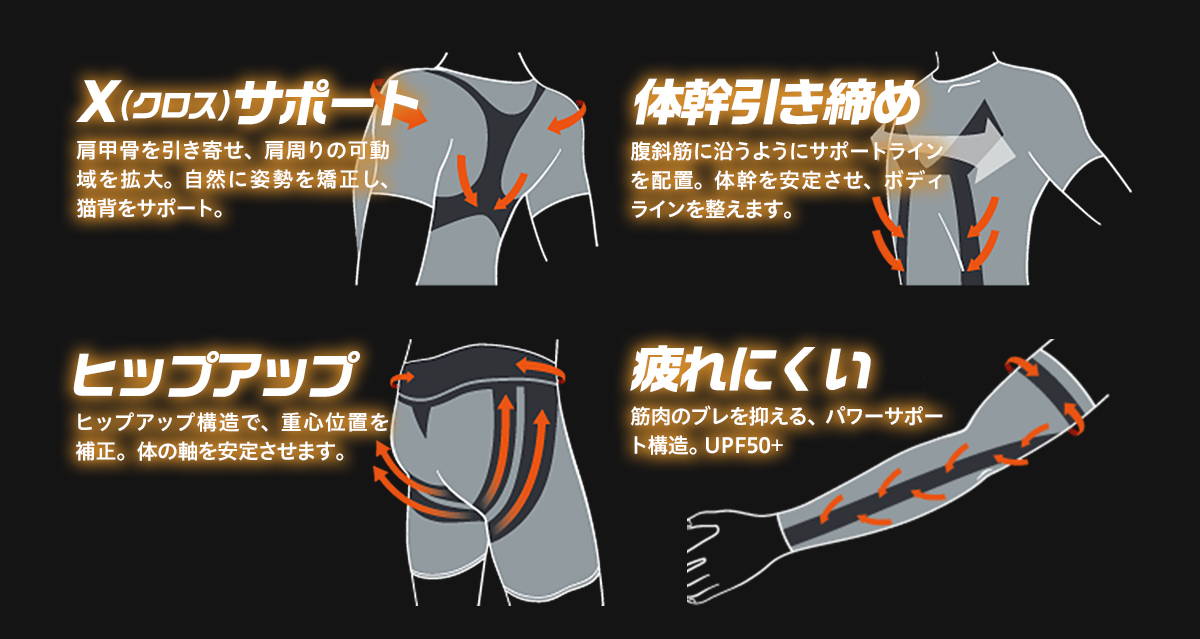 By matching changes in pressure to each part of the body, it supports correct form according to muscle movement. In addition, with up to 500% elasticity and excellent sweat management performance, no matter how much you sweat, you will not feel tight.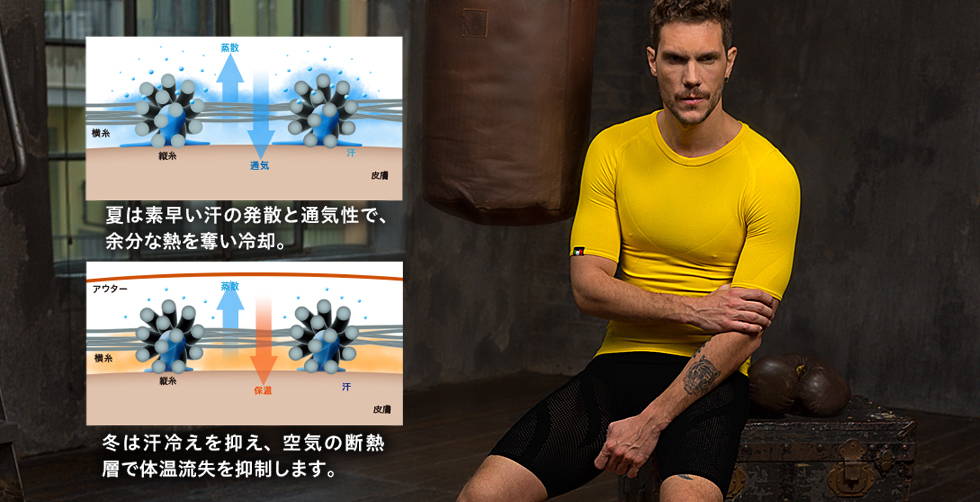 Suppress body temperature fluctuations that take away physical strength
The unique knit structure regulates your body temperature for all seasons. Minimize the energy used to maintain body temperature, leading to improved performance. In the summer, sweat is quickly dissipated and breathable to take away excess heat and cool you down. In winter, it suppresses cold sweat and suppresses heat loss with an insulating layer of air. In addition, wearing it in daily life and business situations will reduce fatigue.

Antibacterial deodorant "Polygiene®"
"Polygiene®" from Sweden. In fact, the cause of odor is not the sweat itself, but the bacteria that breed in the fibers that contain sweat. "Polygiene®" completely suppresses this occurrence with a unique technology that utilizes silver ions. The feature is that the effect lasts even after washing, and it has excellent antibacterial and deodorizing functions.

Keeps you dry and comfortable while regulating your body temperature for all seasons. Inverted Y-shaped zone on the back and highly elastic tissue are placed on the abdominal muscles to support posture correction with the trunk control function. Mesh is placed from the shoulder blades to the upper back, where sweating is high, to improve mobility and breathability. Moderate compression can be expected to reduce fatigue.